Hotel rural in Escalante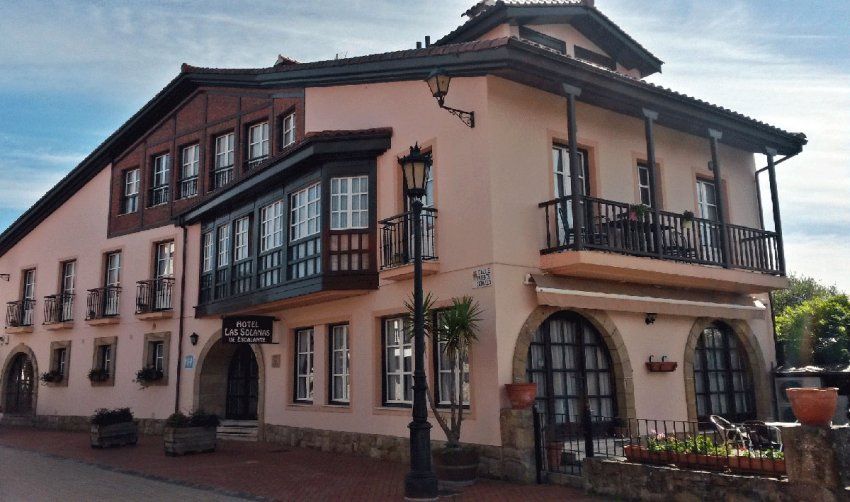 Hotel Las Solanas in Escalante, Cantabria
HOTEL RURAL LAS SOLANAS

, WELLCOME TO ESCALANTE

HOTEL RURAL in ESCALANTE LAS SOLANAS is a charming Country House Hotel, located in the heart of the Natural Park of Santoña, Victoria and Joyel, in the beautiful village of Escalante, Cantabria. A place of great natural beauty and ecological value, where you can enjoy the green and tranquility of the mountain, the diverse wildlife supported by a wetland environment, and the fantastic beaches of the Cantabrian coast with a wide variety offer of activities related to nature including; hiking, cycling, horseback riding and (surprisingly) camel rides, canoeing, surfing, and birdwatching to name just a few ...

The newly refurbished hotel blends a modern and functional air with the traditional architecture of the Cantabrian region, connecting ancient traditions to the 21st Century. One of the main attractions are the amazing views to be enjoyed from the hotel balconies that truly support the name "Rural Hotel" and provide magnificent lighting and colors to the rooms. The perfect place to enjoy some quiet time, admiring the beautiful views of the natural surroundings. Elegance and simplicity, coupled with the care and attention the house staff put in every detail will make you feel at home during your stay.
A charming hotel in a unique setting
The situation of the town of Escalante makes the Hotel an excellent "base camp" from which you can plan your excursions for Rural Tourism, Eco-Tourism, Birdwatching and Adventure Tourism throughout Cantabria.

In short, The Hotel Rural in Escalante, Las Solanas is a cozy and comfortable stay. Not just accommodation, a shared knowledge of Escalante and its natural environment and to help guests to embrace the special environment we enjoy in Cantabria. We are absolutely in love!

Also, if you are a pet owner, you will be pleased to know that we are a pet-friendly Hotel and love to make sure their stay as pleasurable as yours.

Do not wait, whether you want to spend a few relaxing days as a couple, looking for a family beach vacation with children, or prefer a multi-adventure experience in Cantabria, El HOTEL RURAL EN ESCALANTE LAS SOLANAS is the ideal place for you. Make your reservation and get ready to enjoy an unforgettable stay with us.